Bombas Socks For Kids Make Getting Ready For School (Actually) Fun Again
Bombas socks now come in kids sizes, with fun styles your little one will look forward to slipping on in the morning.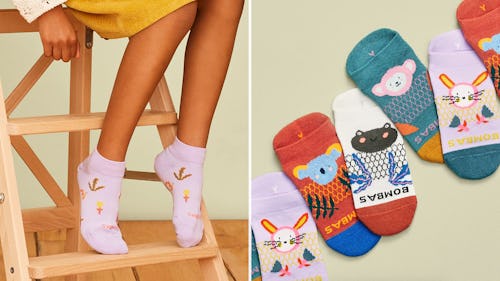 There's a good chance you already own (or want to own) a pair of Bombas socks. Whether its for the sock's now-famous design features, like the seamless toes and stay-put calf elastic, or the brand's philanthropic efforts and stellar customer service, Bombas has become a cult-favorite brand for a reason. Now those same features you know and love come in pint sizes for kids, with fun colors and limited-edition prints your little one will look forward to slipping on in the morning. The latest back-to-school collection offers everything you need for a seasonal restock.
And here's the best part: These ultra-comfy socks promise to be the only ones your kiddo needs for the entire year, thanks to their durable Supima cotton-blend construction and thoughtful design features like blister-tabs and cushioned footbeds to ward off discomfort.
Back To School With Bombas
Built For Life On The Move
Bombas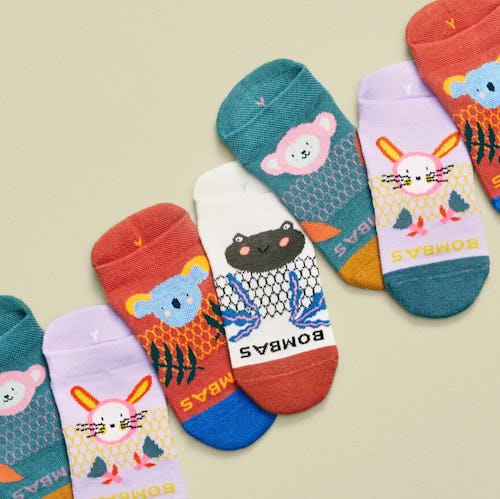 About The Back-To-School Collection
With multipacks of everything from preschool-ready grippy styles, to animal-themed pairs (complete with adorable ears), to leopard-print quarter socks your older kids will love — there's a sock here for your kiddo to absolutely live in.
As with all your Bombas purchases, for every pair of socks you buy, Bombas will donate an equal number to someone in need. And if for some reason you're unsatisfied with your items, Bombas makes it easy to return with pre-paid return shipping — although if the glowing reviews are any indication, you'll likely be back for more. (Good thing they knock off up to 10% off the prices of multipacks.)
Sock-Drawer Staples For Growing Feet
Bombas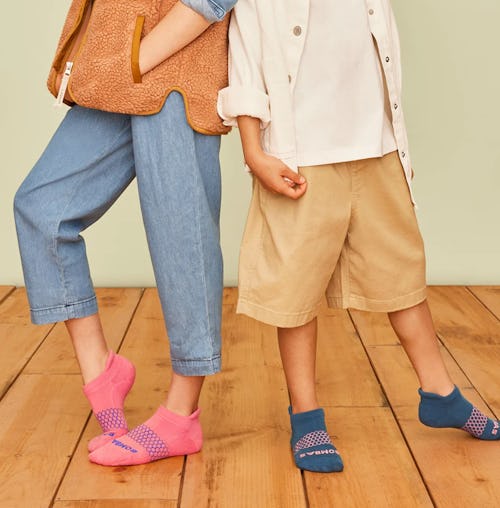 Here are the standout looks from the back-to-school drop from Bombas.
1. Some Leopard Print Socks Ready For Recess
Youth Wild Wear Quarter Sock (4-Pack)
Bombas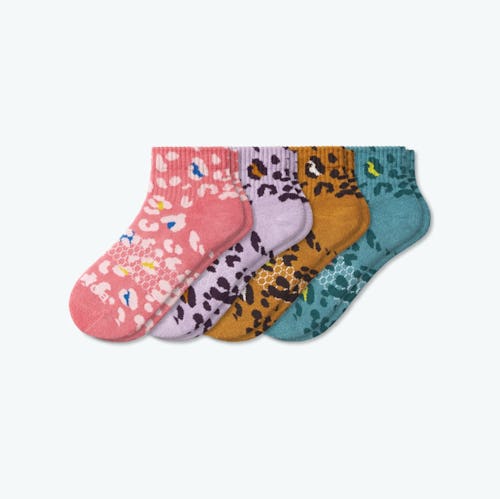 Whether they're worn with a high-top or low-top shoe, these quarter socks will look cute peeping out. They feature a fun leopard print in a convenient four-pack that will pad out your child's sock drawer (and give them multiple fun colors to choose from). Honeycomb arch support, a cushioned footbed, and a sure-fit cuff in Supima cotton makes sure their feet will feel oh-so-comfy.
Sizes: Youth (Ages 5 — 11)
2. These Versatile Toddler Ankle Socks In Go-With-Everything Shades
Toddler Solids Gripper Ankle Sock (4-Pack)
Bombas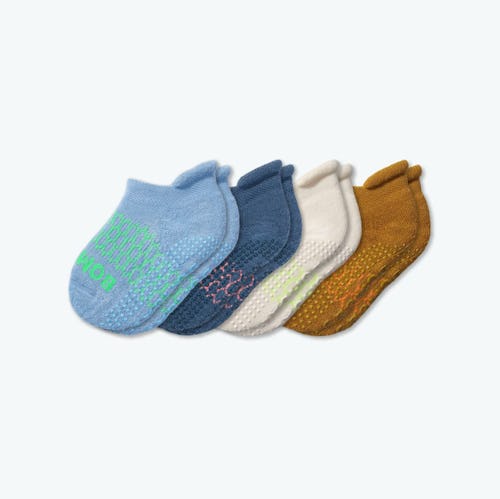 To call the shades in this pack of ankle socks "neutrals" isn't to say that the shades aren't fun. From a rich gold to a vibrant sky blue in breathable Supima cotton, each color is sure to catch your toddler's eye and enhance their outfit, and match with so many solids and patterns, from bright to understated. Honeycomb arch support and stay-put grips promise that your child will be comfy and coordinated, which sounds like a real parenting win. Choose from two color schemes.
Sizes: Toddler (Ages 1 — 5)
3. These Adorable Animal-Themed Ankle Socks
Youth Forest Friends Ankle Socks (4-Pack)
Bombas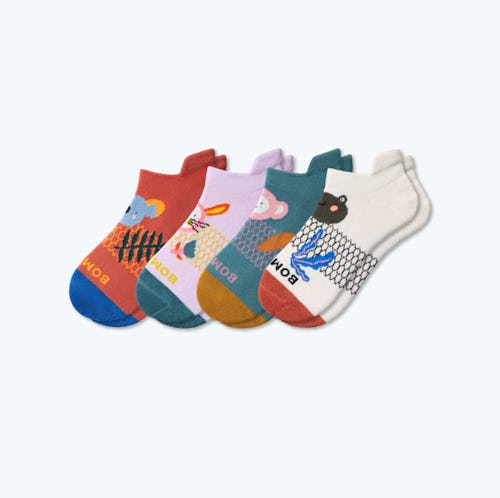 Emblazoned with sweet creatures like a koala bear and a bunny, these Supima cotton socks are an excellent way to make getting dressed for school more fun, and they're packed with features to keep your child's feet feeling comfy all throughout the day, like a blister tab, Honeycomb arch support, and a cozy cushioned footbed.
Sizes: Youth (Ages 5 — 11)
4. Some Playful Dress Socks To Fun-ify Special Occasions
Youth Dress Calf Sock (4-Pack)
Bombas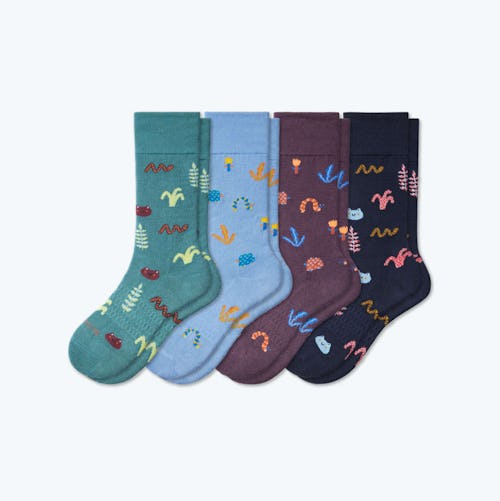 If you're dressing your child for a recital or a major milestone moment, consider this pack of cotton Bombas dress socks. They're made with flat-knit leg construction to lay smoothly under clothing like dress pants, and they feature adorable prints and colors guaranteed to inject a little fun into event dressing. Just as comfy as they are cute, these socks have features like stay-up technology and sure-fit cuffs to prevent any sagging, along with Honeycomb arch support and a cushioned footbed. (The set is also available a neutral colorway if color and pattern doesn't suit the mood.)
Sizes: Youth (Ages 5 — 11)
5. These Animal-Themed Socks With The Cutest Ears
Toddler Forest Friends Calf Sock (4-Pack)
Bombas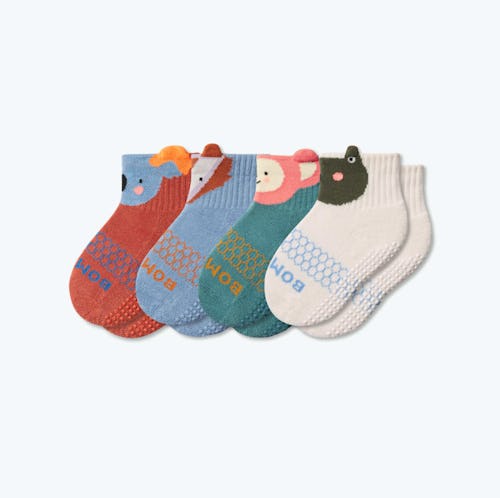 If you're shopping for your toddler, this pack of Supima cotton animal-themed socks is not to be missed — just look at the adorable ears! Each pair features a different animal, like a frog or a fox, with all the signature Bombas comforts, including stay-up technology, Honeycomb arch support, and a cushioned footbed. These socks are sure to charm your toddler as much as they'll charm you.
Sizes: Toddler (Ages 1 — 5)
6. Fierce Little Toddler Calf Socks With Colorful Trim
Toddler Wild Wear Gripper Calf Sock (4-Pack)
Bombas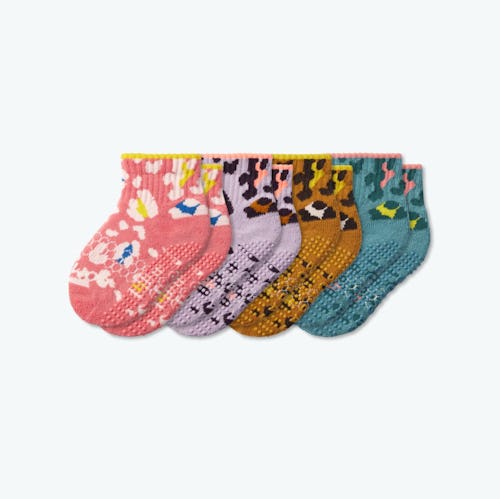 Who could resist these toddler calf socks? The leopard pattern will look adorable with prints or solids, and the colorful trim coordinates with the print to add a tiny additional pop of color. Stay-put grips and stay-up technology help your toddler feel secure, with Honeycomb arch support and a padded footbed adding to the comfort of the classic Supima cotton sock. Good thing they come in a multipack, because there's a good chance these socks will become a favorite.
Sizes: Toddler (Ages 1 — 5)
Don't Forget To Treat Your Feet, Too
Closet Essentials For The Whole Family
Bombas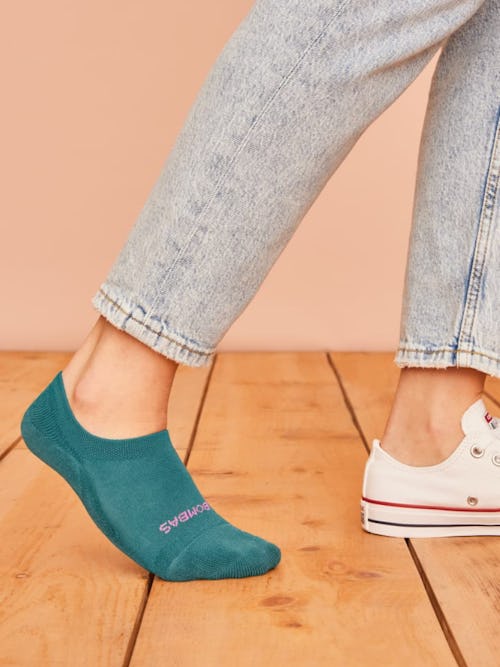 Youth Wild Wear Quarter Sock (4-Pack)
Bombas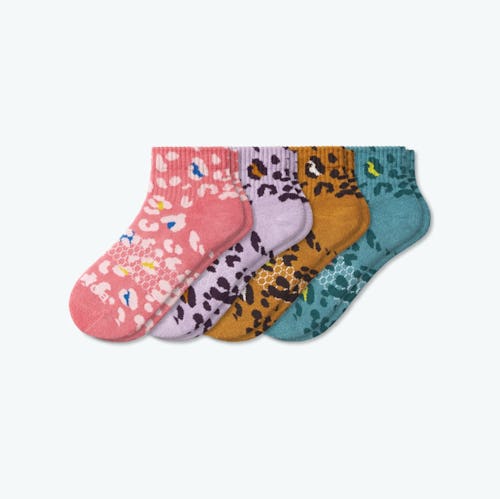 Youth Forest Friends Ankle Socks (4-Pack)
Bombas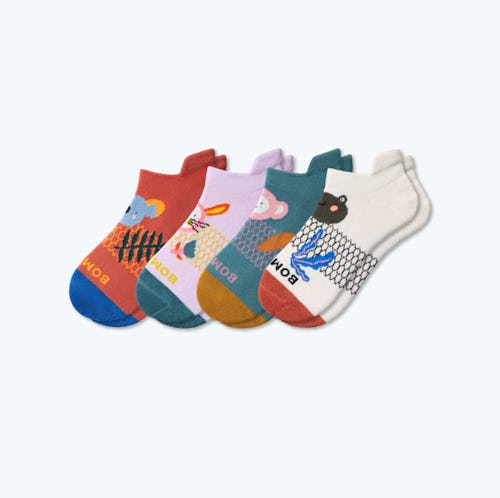 Youth Dress Calf Sock (4-Pack)
Bombas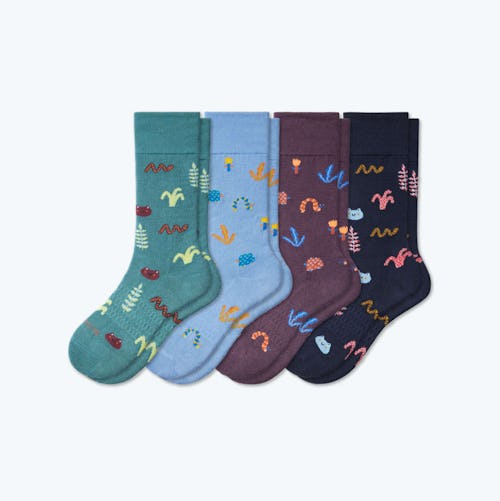 Toddler Forest Friends Calf Sock (4-Pack)
Bombas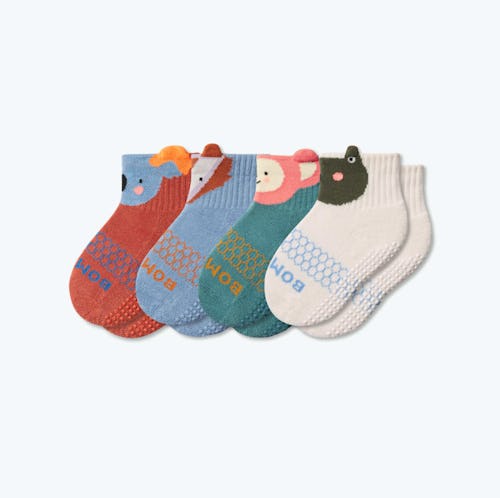 Toddler Solids Gripper Ankle Sock (4-Pack)
Bombas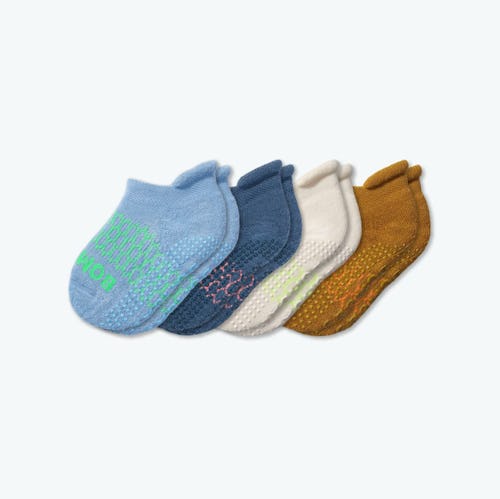 Toddler Wild Wear Gripper Calf Sock (4-Pack)
Bombas